Get ready for holiday entertaining with a fresh pot of coffee and this delicious gingerbread cake with holiday spiced cream cheese frosting recipe.
This shop has been compensated by Collective Bias, Inc. and its advertiser. All opinions are mine alone. #SavorHolidayFlavors
Holiday Entertaining
I've spent the last couple days going through my storage spaces and pulling out my holiday decor.  I always love decorating for Christmas, but this year, I'm not going to hold back at all!  Each room is getting a full holiday makeover - even my master bedroom (which I can't wait to show you.)  
Our house has become the go-to spot for gatherings with our friends.  But we're also going to be doing a lot of family entertaining at our house this year too.  Both my hubby and I have brothers who all live out of town.  My parents, my hubby's extended family, and almost all of the siblings will be visiting at some point over the holidays - the best present of all!  So, I need to be prepared with a large amount of delicious coffee and a sweet treat to go with it.
Hover over the below image to shop directly from this post.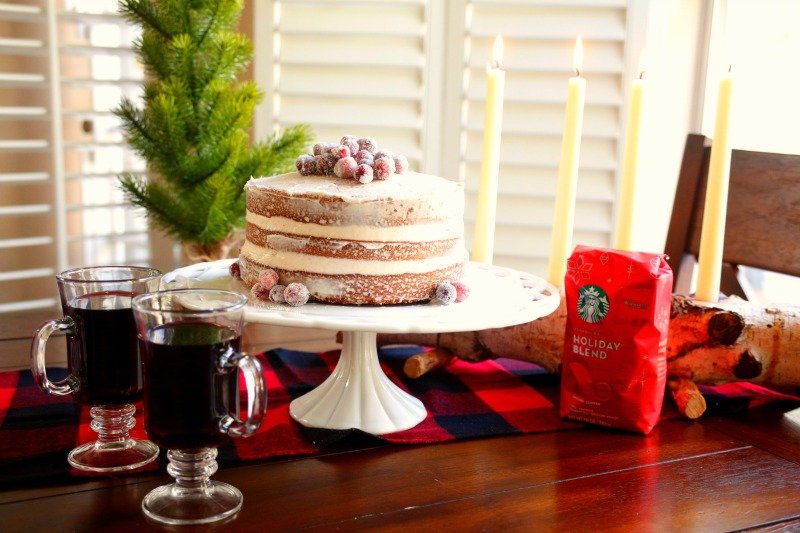 You thought I drank a lot of coffee? Between my dad, my in-laws, and myself, we can go through 3 or 4 pots of coffee in under an hour.    But that usually means we're sitting around a table, laughing and enjoying each other's company.
With that much coffee drinking going on, I want to serve the good stuff.  I'm crazy about the Starbucks® Holiday Blend Ground Coffee.  It's a wonderful medium-roast with sweet maple notes. Yum!
I picked mine up at Walmart where I like to do most of my holiday shopping.  I love being able to grab everything I need - groceries, holiday decor, and gifts, in one stop.  Even though I often find myself spending about 30 minutes more than planned just looking in the Christmas section LOL.  
On this particular trip, I only spent 10 minutes browsing ornaments, so it was a win.  
Right now Starbucks® and Walmart have a special offer: Purchase three (3) qualifying Starbucks® packaged coffee (10-20oz.), Starbucks® K-Cup® packs (9-32ct.), VIA® Instant (5-8ct.), Starbucks® Syrups (12.17oz.), or Starbucks® Cookie Straw packs (9.17oz.) products in a single transaction at Walmart stores from 11/1/17 through 12/26/17 and receive 75 bonus stars when you upload your receipt at Starbucks-stars.com.  So yes.... I will be loading up on as much coffee as the family can drink.
Gingerbread Cake and Holiday Spiced Cream Cheese Frosting Recipe
And now here's how to make that delicious gingerbread cake to go with your Starbucks® Holiday Blend ground coffee.
For the cake's dry ingredients, mix together flour, baking soda, salt, ginger, and nutmeg in a bowl.  I love the smell of ginger and nutmeg!  It's like Christmas in a bowl.
To make the batter, combine butter, sugar, eggs, oil, molasses, vanilla, and water in a stand mixer.  Since molasses are so sticky, measure the oil first, then use the same measuring cup for the molasses so they slide right out.  Beat the batter on medium and then gradually add the dry ingredients.
Grease your cake pans and divide the batter between 3 pans.  Bake the cake at 350 degrees for 25 minutes or until the cake is set.
While your cakes are cooling, whip up the frosting.  Beat butter, cream cheese, powdered sugar, vanilla, nutmeg, ginger, and cinnamon until light and fluffy.
I find it easiest to frost a cake after it has been well chilled.  Wrap your cakes in plastic wrap and stick them in the freezer for about half an hour before assembling the layers.
Frost the cake and then it's time to enjoy with some Starbucks® Holiday Blend ground coffee and the company of your favorite people.  
This gingerbread cake with holiday spiced cream cheese frosting and a pot of Starbucks® Holiday Blend Ground Coffee make our family gatherings even more special.
Until next time!
Gingerbread Cake with Holiday Spiced Cream Cheese Frosting
Ingredients
For the Gingerbread Cake:
6 TBSP butter
1 1/2 cup sugar
3 eggs
3/4 cups safflower oil
1 cup molasses
1 1/2 cups water
3 cups flour
1 1/2 tsp baking powder
3/4 tsp salt
1 1/2 tsp ground nutmeg
1 1/2 tsp ground ginger
1 1/2 tsp vanilla
For the Holiday Spiced Cream Cheese Frosting:
8 oz. cream cheese (softened)
1/2 cup butter (softened)
4 cups powdered sugar
1/2 tsp cinnamon
1/2 tsp ground ginger
1/2 tsp ground nutmeg
1 tsp vanilla extract
Instructions
Preheat your oven to 350 degrees.
In a bowl mix together the flour, baking powder, salt, ginger, and nutmeg.
In a separate bowl use a mixer to combine the butter, sugar, eggs, oil, molasses, vanilla, and water.
Gradually add the dry ingredients to the wet until they are well mixed.
Spray your cake pans and divide the batter between 3 pans.
Bake for 25 minutes or until the cakes are set.
Transfer the cake to a cooling rack and allow to cool completely.
Meanwhile, mix together the frosting. Add butter, cream cheese, vanilla, powdered sugar, nutmeg, ginger, and cinnamon to a bowl and beat with a whisk until light and fluffy.
Assemble the cake by placing a layer on a cake plate and covering the top with frosting. Add the next 2 layers in the same way, then use a spatula to fill in the sides of the cake with frosting
Top with sugared cranberries as a garnish
https://jordanseasyentertaining.com/2017/11/gingerbread-cake.html